自特斯拉推出4680圆柱电池以来,大圆柱电池就持续受到行业高度关注,深圳中基审时度势,及时开展4680大圆柱电池的智能高速装配线研发,针对大圆柱电池组装的关键工艺技术难点,在国内率先突破了多项关键技术。
Since Tesla launched the 4680 cylindrical battery, the large cylindrical battery has continued to receive high attention in the industry. SZJ timely grasped the situation and carried out the development of intelligent high-speed assembly line for 4680 cylindrical batteries. Focusing on the key process and technical difficulties in cylindrical battery assembly, SZJ made a number of key technology breakthroughs domestically for the first time.
深圳中基为国内B客户研发与设计制造的120PPM 4680高速智能装配线于2023年7月18日通过客户验收。
The 120PPM 4680 high-speed intelligent assembly line developed and designed for domestic B customer by SZJ was accepted by the customer on July 18, 2023.
作为深圳中基首条交付的120PPM 4680智能高速装配线,主要包括辊槽&短路测试机、盖帽焊接机、封口机、氦检机、密封钉焊接机、清洗机、涂胶机、套膜&二次热缩机、喷码机、扫码装盘机等设备。
As the first 120PPM 4680 intelligent high-speed assembly line delivered by SZJ, it mainly includes beading & short circuit testing, cap welding, crimping, helium inspection, tack welding, washing, gluing, sleeving & 2nd heat shrinking, inkjet printing, barcode scan, cell loading into tray.
其搭载了多项自主研发的革新技术,使产线具有结构紧凑稳定,产品一致性好,效率、良品率和稼动率高,故障率和能耗低等特点,实现全过程自动检测监控和智能化、数字化生产。可广泛适用于46系列(4680-46120)不同规格的大圆柱电池,品质控制:良率整线>99%,效率实现:产能 ≥120PPM,稼动率≥96%。
It is equipped with a number of independently developed innovative technologies, making the production line compact, stable, with good product consistency, high efficiency, yield and operation rate, and low failure rate and energy consumption. It realizes full-process automatic detection and monitoring as well as intelligent and digitalized production. It can be widely used for 46 series (4680-46120) large cylindrical batteries of different specifications. Quality control: line yield >99%, efficiency: capacity ≥120PPM, operation rate ≥96%.
交付设备展示
Display of Delivered Equipment
辊槽机
Beading Machine
设备主要由电池与托杯分离、辊槽、电池托杯结合、辊槽上部高度&直径检测、电池高度检查等构成。
The equipment mainly consists of battery and cup separation, beading, battery cup combining, beading upper height & diameter detection, battery height inspection, etc.
该设备为凸轮转塔式结构,通过上顶升组件和旋转下压组件双边进给挤压钢壳,在钢壳高速旋转的同时使钢壳达到一定的形变状态。电池双边进给、滚刀进给采用凸轮机构完成,在保证钢壳高精度的同时高效完成辊槽。利用基于视觉的高精度飞拍测量技术,检测成型的各项尺寸参数。
The equipment adopts a cam turret structure. Through the upper lifting assembly and the rotating lower pressing assembly, both sides are fed in and squeezed on the steel shell. While the steel shell rotates at high speed, it reaches a certain deformation state. The double-sided feeding of batteries and the feeding of beading blades are completed by the cam mechanism, which efficiently completes the beading while ensuring high precision of the steel shell. The high-precision snapshot measurement technology based on vision is used to detect various dimensional parameters of the formed product.
钢壳口部缩口模具1800万次
滚刀1000万次
辊槽调节范围:±0.5mm
上部下部加压调节±0.5mm
Steel shell mouth swagging die: 18 million cycles
Beading blade: 10 million cycles
Beading adjustment range: ±0.5mm
Upper and lower pressing adjustment: ±0.5mm
盖帽焊接机
Cap Welding Machine
设备包含电池上料扫码、正极耳自动找正、盖帽激光焊接、焊接强度测试、折弯盖帽、高度检查以及盖帽自动上料、激光刻码等功能。
The equipment includes battery feeding barcode scanning, automatic cathode tab alignment, cap laser welding, welding strength testing, cap bending, height inspection, automatic cap feeding, laser engraving and other functions.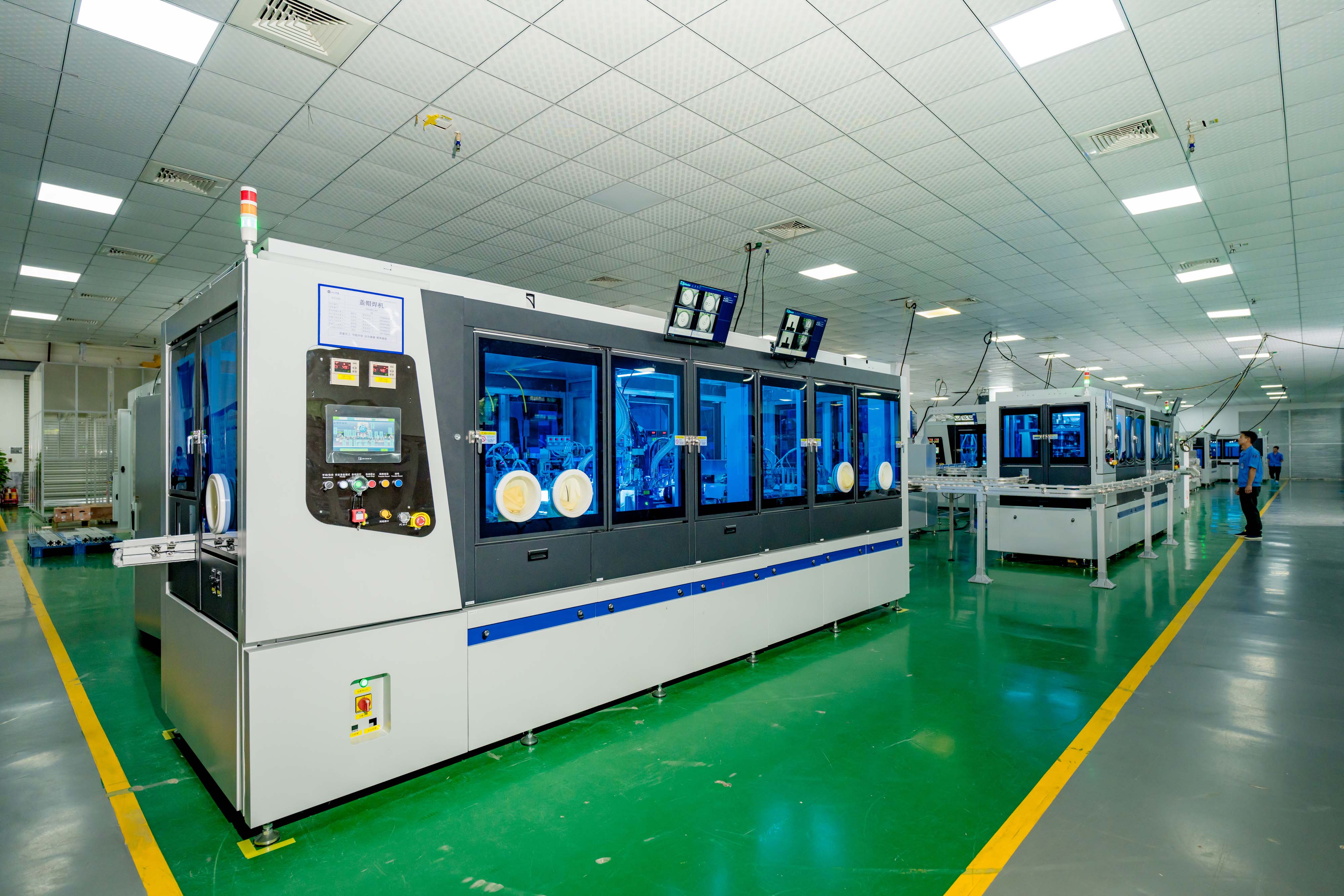 该设备为间歇凸轮式结构,极耳整理时采用光纤传感器进行位置确认,焊接采用振镜焊接,使焊接效率、精度和位置准确性高,焊接效果好,配备视觉检测,检测极耳焊接后位置的准确性,防止焊错位的电池流入下工位,同时通过机构与算法相结合保证电池上料扫码数据与盖帽激光刻码数据绑定,实现电池的数据追踪。
The equipment adopts an intermittent cam structure. Fiber optic sensors are used for position confirmation during tab alignment. Galvanometer welding is used for welding to achieve high efficiency, precision, position accuracy and good welding effects. Visual detection is equipped to detect the accuracy of tab welding positions After, preventing batteries with incorrect welding from flowing to the next station. At the same time, through the combination of mechanisms and algorithms, it ensures that the battery barcode scanning data during feeding is bound with the cap laser engraving data to achieve battery data tracking.
拉力检测装置 (0.5 - 1.5㎏f 可自由设定)
基本延长强度: 2.0㎏f的力下不会拉断
焊后焊点的CCD检测精度:±0.05mm
Tensile testing device (adjustable from 0.5 - 1.5kgf)
Basic tensile strength: does not break under 2.0kgf force
CCD detection accuracy after welding: ±0.05mm
封口机
Crimping Machine
设备由盖帽高度检查、DMC清洗、卷边、蹲封、封口后CCD检查、内阻检测等构成。
The equipment consists of cap height inspection, DMC cleaning, curling, bushing, CCD inspection after crimping, internal resistance detection, etc.
该设备为凸轮转塔式结构,顶杆通过凸轮把电池顶升至封口位,同时封口模具下压凸轮下降,电池夹具加紧壳体实现壳体封口,运用高精度测量技术保证封口成型过程的尺寸精确性。实现高精度、高稳定性的电池封口。
The equipment adopts a rotary turret continuous cam mechanism. The push rod lifts the battery to the crimping position through the cam, while the crimping die lowering cam lowers, and the battery fixture tightens the shell to achieve shell crimping. High-precision measurement technology is used to ensure dimensional accuracy during the crimping process. High-precision and high stability battery crimping is achieved.
采用超硬合金(G3)
3Jaw≥900万次
墩封后外径精度±0.05mm
Use ultra-hard alloy (G3), 3Jaw≥9 million cycles
Diameter accuracy after bushing ±0.05mm
密封钉焊接机
Tack Welding Machine
设备用于实现电池的自动上料、激光清洗、上密封盖、预焊、激光焊接、CCD检测等功能。
The equipment is used to achieve automatic battery feeding, laser cleaning, tack loading, pre-welding, laser welding, CCD detection and other functions.
该设备为间歇凸轮式结构,激光清洗密封钉焊接区域,保证密封口部清洁的同时不损伤密封圈,密封钉供料采用振动盘供给,有效保护密封钉供给时不会有外部损伤,提高密封钉焊接品质。
The equipment adopts an intermittent cam structure. The laser cleans the tack welding area, ensuring a clean sealing mouth without damaging the seal. The tacks are fed using a vibrating disc feeder, which effectively protects the tacks from external damage during feeding and improves the welding quality.
焊后CCD检测精度:±0.05mm
CCD detection accuracy after welding: ±0.05mm
套膜&二次热缩机
Sleeving & 2nd Hot Shrinking Machine
该设备为转盘凸轮式结构,与电池接触部位使用非金属材质,有效保证电池外观的完整性,电池通过定量温度的加热器和热风区进行套管热缩,电池在热缩过程中电池可自转,保证四周受热,保证套膜热缩效果。
The equipment adopts a rotary turret cam structure. The parts in contact with the battery are made of non-metallic materials, which effectively ensures the integrity of the battery appearance. The battery heat shrinks the sleeve through a quantified temperature heater and hot air zone. During heat shrinking, the battery can rotate by itself to ensure all-around heating and ensure the heat shrinkage effect of the sleeve.
套膜裁切精度:±0.15mm
套膜裁切毛刺:≤20μm
面垫冲裁精度:±0.1mm
温度控制精度:±5°
Sleeve cutting accuracy: ±0.15mm
Sleeve cutting burr: ≤20μm
Pad blanking accuracy: ±0.1mm
Temperature control accuracy: ±5°
喷码机
Inkejet Printing Machine
设备用于电池表面进行喷码&读码。
The equipment is used for battery surface coding & reading.
该设备为转盘凸轮式结构,电池移送的过程通过凸轮和治具进行限位,在电池匀速运动和位置一致的状态下进行喷码,有效保证喷码的效果,电池与喷嘴之间距离可通过滑台进行细调,使其达到最佳喷码距离,电池上料时对其端部进行扫码,电池扫码内容和喷码内容绑定,实现电池数据的追踪。
The equipment adopts a rotary turret cam structure. The battery transfer process is limited by cams and fixtures to ensure consistent speed and position for coding, effectively ensuring coding quality. The distance between the battery and nozzle can be finely adjusted through the slide to achieve optimal coding distance. When the battery is fed, its end is scanned. The scanned code and spray code of the battery are bound to achieve battery data tracking.
电池与喷嘴的移动精度为1-3μm,平行度为7-8μm;
喷码歪斜≤0.05mm。
The moving accuracy between the battery and nozzle is 1-3μm, the parallelism is 7-8μm;
Coding skew ≤0.05mm.
扫码装盘机
Code Scanning and Loading into Tray Machine
该设备为模组输送带结构,托盘升降机安装定位装置,有效防止托盘倾斜,保证其稳定性,电池夹取手指为柔性,下降时有上下浮动功能,有效防止撞机对设备和电池造成损伤,取料手指具有断电自锁功能,防止突然停电时电池下落对电池造成损伤;电池信息与托盘位置通过扫码绑定,且绑定信息具有唯一性。
The equipment has a module conveyor belt structure with a pallet elevator installed with a positioning device to effectively prevent pallet tilting and ensure stability. The battery gripping fingers are flexible with up and down floating function during descending to effectively prevent collisions from damaging the equipment and batteries. The gripping fingers have power-off self-locking function to prevent battery dropping and damage in case of sudden power failure. The battery information and pallet position are bound by scanning codes, and the binding information is unique.
电池定位精度为±0.1mm
Battery positioning accuracy: ±0.1mm
视觉检测应用
Application of Visual Inspection
该产线100%搭载自主研发的MV Master视觉系统,以全自动在线检测为核心,采用高精度视觉定位与测量技术和独有的视觉缺陷辨识功能,实时数据同步上传,实现智能化生产;在焊机工艺更精准高效,尺寸管控更加精确的情况下,实时捕捉潜在问题,保障每一道工序的的质量稳定,赋能产线生产效率及良品率。
This production line is 100% equipped with MV Master vision system independently developed by SZJ. With fully automatic online detection as the core, it adopts high-precision vision positioning, measurement technology and unique visual defect identification functions, synchronizes and uploads real-time data to achieve intelligent production. Under more precise, efficient welding process and more accurate size control, it captures potential issues in real time to ensure quality stability in each process, empowering production efficiency and yield of the production line.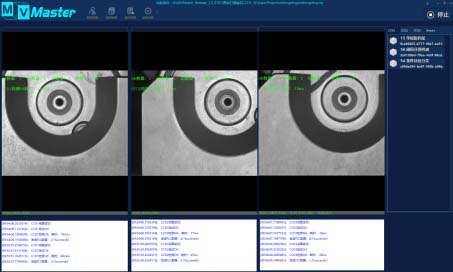 激光技术应用
Application of Laser Technology
其中盖帽焊工序采用单模连续光纤激光焊接技术,焊缝上下宽度差小,深宽比大,焊接质量好,16个焊点仅需0.3秒,满足了盖帽焊超高效率焊接需求。
The cap welding process adopts single mode continuous fiber laser welding technology with small weld seam upper and lower width difference, large depth-to-width ratio, and good welding quality. 16 welding spots only take 0.3 seconds, meeting the requirements for ultra-high efficiency cap welding.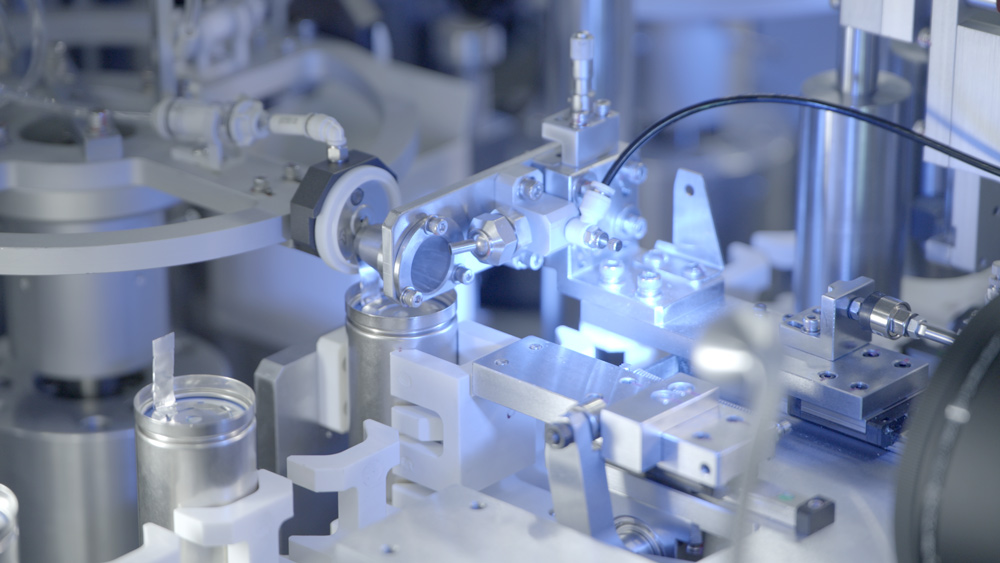 密封钉焊接工序采用了自主开发的高速激光焊接技术,能量密度高、焊接时间短、热影响区小,其焊接速度最可达到70㎜/s,彻底解决了高速线激光焊接的效率问题;上述工艺良率均达到99.9%以上。
The tack welding process adopts the high-speed laser welding technology independently developed by us, with high energy density, short welding time, and small heat affected zone. Its maximum welding speed can reach 70mm/s, which thoroughly solves the efficiency problem of high-speed line laser welding. The yield of the above processes all reach above 99.9%.
圆柱装配线发展历程
Development History of Cylindrical Cell Assembly Line
圆柱型电池是目前应用范围最广的锂电子电池形态,深圳中基是国内最早的锂电自动化装配设备研发制造商之一。
Cylindrical batteries are currently the most widely used lithium battery form. SZJ is one of the earliest lithium battery automation equipment manufacturers in China to research, develop and manufacture cylindrical assembly equipment.
2007年公司自主研发了25PPM单机设备。
In 2007, the company has independently developed 25PPM single machine equipment.
2008年开始在设备上运用凸轮结构,使设备的稳定性和效率得到进一步提高。
In 2008, we started to apply cam structures in equipment, the stability and efficiency of the equipment are further improved.
2014年自主研发多工位旋转连续式的辊槽机,为国内首家凸轮转塔式的辊槽机设备厂商,在封口机上运用了间歇式凸轮传动技术,解决了多工位封口稳定送料问题,使辊槽以及封口机突破传统结构,使设备效率提升至60PPM,同时经过多年的凸轮技术应用积累,为后续的高速凸轮运用技术打下了坚实的基础。
In 2014, we independently developed a multi-station rotary continuous beading machine,becoming the first company in China to manufacture rotary turret cam slotting machines. Intermittent cam drive technology is used on the beading machine to solve the problem of stable feeding at multiple crimping stations, breaking through the traditional structures of beading and crimping machines and improving the efficiency to 60PPM.After years of accumulated experience in cam technology application, we have laid a solid foundation for the subsequent application of high-speed cam technology.
2015年公司自动化圆柱装配生产线达到国内市场占有率第一,同年公司第一条40PPM26100全极耳电池装配线成功交付,包含全极耳圆柱电池揉平机、入壳机、多针电阻焊接机、辊槽机、盖帽焊接机、封口机、喷码装盘机等设备。是国内首家研发使用揉平技术、入壳技术、多针电阻焊接技术、钢壳辊槽技术、钢壳缩口技术、电池封口技术等实现全极耳圆柱电池组装自动化生产。是国内最早,最先进,最有实际意义的首条大圆柱自动组装线产品,奠定了国内行业领先地位,同时推广到国内其他动力电池厂商。
In 2015, the company's automated cylindrical assembly production lines accounted for the first market share in China. The same year,SZJ successfully delivered a 40PPM 26100 full tab battery assembly line, including full tab cylindrical battery flattening machine, cell insertion machine, multi-pin resistance welding machine, beading machine, cap welding machine, crimping machine, inkjet printing and tray loading machine etc. It is the first domestic company to develop and use flattening technology, casing technology, multi-pin resistance welding technology, steel shell beading technology, steel shell swagging technology, battery crimping technology to realize full tab cylindrical battery automated production. It is the earliest, most advanced and most meaningful first large cylindrical automatic assembly line product in China, which has established a leading position in the domestic industry and has been promoted to other domestic power battery manufacturers.
2017年公司完成了国内首家小圆柱120PPM高速生产线的突破。
In 2017, the company achieved a breakthrough in the first high-speed small cylindrical 120PPM production line in China.
2020年通过公司多年的技术积累,对转塔凸轮式结构进行改善优化,设备机构形式从直线式间歇凸轮运动机构,变为多工位旋转凸轮连续式机构,动作在圆周运动的过程中通过多工位凸轮机构实现,节约了移栽启停、动作响应反馈的等待时间,转塔凸轮式结构在整个200PPM装配线上运用,从而使效率从120PPM提升至200PPM。同年,国内首创50PPM 40系列大圆柱电池辊槽封口工艺凸轮组装线研制并交付。
In 2020,Through years of technology accumulation and improvements to the rotary turret cam structure, the equipment structurel form has evolved from a linear intermittent cam motion mechanism to a multi-station rotary continuous cam mechanism, with the actions achieved through multi-station cam mechanisms during circular motion, saving the waiting time for transplanting start-stop and motion response feedback. The rotary turret cam structure is applied throughout the entire 200PPM assembly line, improving the efficiency from 120PPM to 200PPM.The same year,SZJ has developed and delivered the first domestic 50PPM 40-series large cylindrical battery beading & crimping cam assembly line, with innovative beading & crimping process for large cylindrical batteries.
2021年国内首创25PPM 60系列大圆柱电池激光穿透焊封口工艺凸轮组装线成功交付。
In 2021, SZJ successfully delivered the first domestic 25PPM 60-series large cylindrical battery laser penetration welding sealing cam assembly line with innovative laser penetration welding sealing process.
2022年国内首创150PPM 46系列大圆柱电池激光穿透焊封口工艺凸轮转塔高速组装线单机研制成功,保证电芯入壳时无损伤,效率150PPM,良率99.8%,极耳焊接效率达到0.5S/PCS,良率99.8%,极耳揉平成型效率可以达到150PPM、良率99.8%,包胶效率可达150PPM、良率99.8% 。同时为国内龙头电池厂商提供了各类装配线解决方案,研制各系列实验设备。
In 2022, SZJ successfully developed the first domestic 150PPM 46-series high-speed rotary tower cam assembly line with innovative laser penetration welding sealing process for large cylindrical batteries, ensuring no damage to the cells during cell insertion at an efficiency of 150PPM and a yield rate of 99.8%. The tab welding efficiency reached 0.5S/PCS with a yield rate of 99.8%. The tab flattening efficiency reached 150PPM with a yield rate of 99.8%. The tape wrapping efficiency reached 150PPM with a yield rate of 99.8%. At the same time, SZJ has provided various assembly line solutions for domestic leading battery manufacturers and developed experimental equipment for various series.
2023年120PPM4680大圆柱装配线成功交付。
In 2023, a 120PPM 4680 large cylindrical assembly line was successfully delivered.
目前公司已成功研制300PPM圆柱装配线、交付120PPM 4680大圆柱装配线,为后续的批量交付和研制更高效的圆柱装配线奠定了坚实的基础!
The company has successfully developed 300PPM cylindrical assembly lines and delivered 120PPM 4680 large cylindrical assembly lines, laying a solid foundation for subsequent mass deliveries and developing even more efficient cylindrical assembly lines!